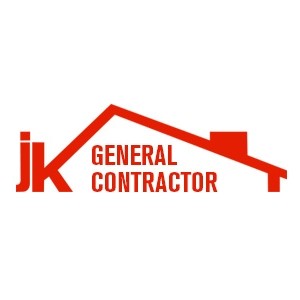 JK General Contractor, LLC specializes in meeting all of your project needs. We pride ourselves in quality workmanship at a competitive price.
Our team has over 20 years of experience and our tradesmen fully understand all aspects of the work they perform. We maintain the highest professional standards from your initial consultation to project completion. This is achieved by maintaining a sales staff with actual field experience and project managers who understand our client's needs. This proven management style ensures repeated customer satisfaction.
Areas of expertise:
Concrete: Driveways, Walls, Foundations, Repair, Leveling
Pavers: Patios, Driveways, Commercial, Residential
Brick/Block: Walls, Foundations, Walkways, Repair, Tuck Pointing
Stone: Retaining Walls, Asthetic Walls, Slope Retention, Repair, Drainage Solutions, Fireplaces
Drywall, Carpentry, Tile and Flooring, Decks, Basement/Bathroom Remodeling
2705135143
Contractor
LLC – Limited Liability Company
Class A
We look forward to meeting with you to discuss your project needs.
Christian Gonzalez Cingolani
Marketing Director
chris@jkgen.com
(202) 489-1868 Direct
26158 Gum Spring Rd
Chantilly, VA 20152
If after hours please send us a message using the contact form below: